Each drill, or physical phase, you create in your training provides different statistics. Learn how to get the most out of it.


Technical Drills
Unopposed Passing - Drills that involve one or multiple balls executing passing sequences

Unopposed - Ball mastery, where each player has a ball. (only TOUCHES will be calculated as Technical Data)

Opposed Lineups - For Small Sided Games or internal matches, where the lineups of each team are known, this data will include team stats possession % , pass completion % , average time to regain the ball and also individual stats, lost balls, regains, pass completion


Opposed - This can include drills where one or multiple balls are in play and all of the technical data can be viewed, including Releases, average time on the ball, playing tempo.



5. Physical Phases - Any physical sessions that DO NOT involve a football should be entered as a Physical drill.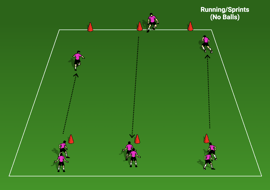 Note: Where possible 'TAG' as many of the drills as possible, this will allow you to view and review data in a more detailed manor.